Here's a snapshot of what's involved in locating a water leak for a large manufacturing business and some of the variables encountered.
Overview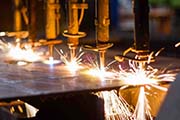 Our client requested a water leak detection at a large manufacturing business in an industrial estate at Port Kembla.
Given the nature of the manufacturing business and for safety reasons, it was vital to detect and fix the water leak as soon as possible.
1. Gather information from the client
On arrival on site, our technician met with the client contact who provided an overview of the situation, diagrams of the site, and the locations of water valves.
2. Process of elimination
With this information, and seeing the extent and location of the actual water leak, our technician started the leak detection process by opening and closing a series of valves. By doing this, the technician was able to gradually eliminate sections of pipework that weren't leaking.
3. Detecting sounds caused by water leaks
As the acoustic listening device detected significant sounds caused by water moving through the shut off valves and on a landing valve, our technician concluded that all signals were indicative of a large water leak.
4. Factors impacting pinpointing the exact location
Pinpointing the exact location of a water leak can be challenging at the best of times. For this detection, our technician had to contend with a number of factors: (a) the water main was reasonably shallow; (b) the extent of the water leak; and (c) the complex layout of the site.
Outcome
With many years' of experience using acoustic listening devices for water leak detection across a range of sites, our technician was able to provide the client with an accurate location of the water leak over an area of pipework. This allowed the client to implement a remediation plan and a return to normal drain flow volume.
Expert Leak Detection services
Online Pipe & Cable Locating are experts in leak detection. Should you like further information or a quote for leak detection services, please call our friendly team on 1300 665 384.