Locating underground assets may seem to be a relatively simple task, but excavation based on assumptions can be risky and expensive.
The following checklist is based on Dial Before You Dig's (DBYD) 4 Ps – Plan, Pothole, Protect, Proceed – and it should help eliminate possible issues:
Plan, plan, plan your project. DBYD recommend contacting them at least 2 days before commencement of works, to allow time to receive relevant papers/plans*.
Never "assume" you know the exact location or depth of underground assets. Second guessing can lead to damage and expensive repairs (and possible injury).
Never underestimate the depth of underground assets, always lodge a DBYD enquiry before any excavation.*
You will receive plans from all utility providers who are registered with DBYD and who have assets on the site in question.
The plans you receive only indicate the presence of the utility company's pipes and cables* (private assets won't be shown on these plans, but junctions may be).
Before excavating, inspect the site for evidence of underground (or overhead) assets that may be connected to the property, but not recorded on the plans.*  For example, water meters, vent shafts, and manholes.
Before excavating, engage an accredited locator – Online Pipe & Cable Locating – to accurately locate and mark asset locations.*
(*Source: Dial Before You Dig)
Options for locating underground pipes and cables
We have a range of  pipe and cable locating devices to locate underground assets on just about any site.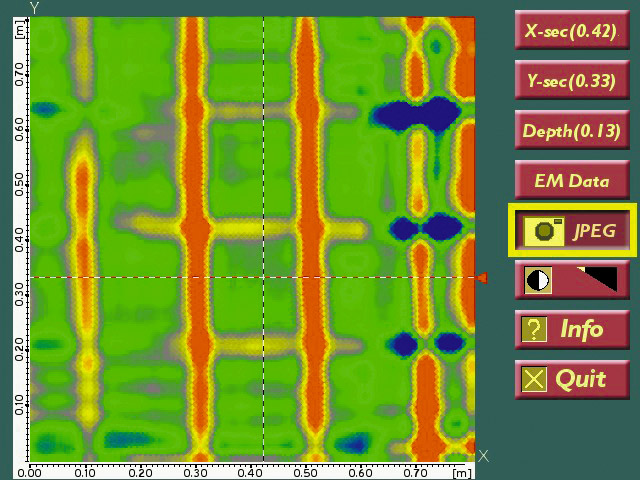 »   Hand-held Locators – for the location of metallic pipes, cables, rebar and other structures 300-400mm sub-surface.
»  Ground Penetrating Radar (GPR) – for the location of outdoor metallic and non-metallic pipes, cables and other structures from 2-3m sub-surface; suited to roads, construction sites, and other outdoor sites.
»  Indoor GPR – for concrete scanning and locating post-tension cables and rebar 300-400mm sub-surface prior to concrete cutting or core hole drilling.
All locating devices can show the depth of the underground asset.  However, it should be noted that Telstra prevents locating companies from indicating the depth an asset and has a preference for non-destructive digging (also known as pot holing).  Utility companies may also provide specific guidelines to follow before excavation.
Non-destructive digging (NDD) is widely recognised as the safest method of exposing underground assets. Depending on the sector, NDD may also be referred to as hydro excavation or pot holing. Regardless of the term used, NDD uses a high pressure water lance to safely excavate soil, dirt and sand from around the underground asset. In some instances, Vacuum Loading is required to remove the spoil from the site.
Benefits of Locating & Non-destructive Digging
»  Saves time in determining the actual location of underground pipes and cables.
»  Saves time required to complete the works required or project.
»  Helps prevent damage and costly repairs to underground pipes and cables.
»  Helps manage risks of accidents and injuries caused by accidental damage to the underground asset.
»  Compliance with utility company requirements and related regulatory and legal obligations.
Conclusion
Expert location of underground assets is a must before excavation commences. As an accredited utility locator contractor, Online Pipe & Cable Locating has the expertise, technology, and experience to accurately locate underground assets. Safe. Accurate. Timely.
Should you have any questions, or require more information on our locating expertise, please give a member of our friendly team a call on 1300 665 384.